Cortland, NY Garage Doors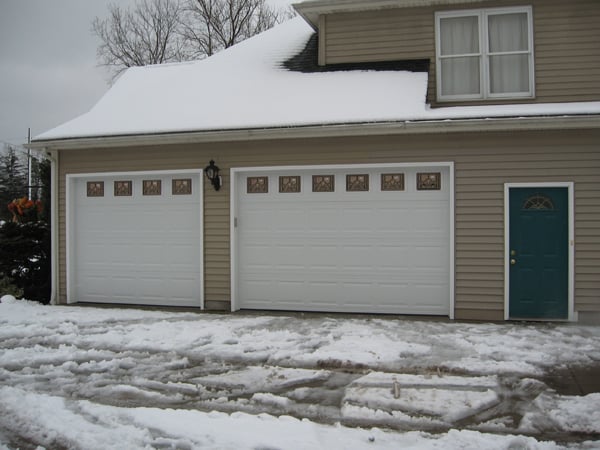 Whether you are building a new home, a new garage or simply looking to refurbish your current Cortland home, you are going to need new garage doors. Great looking overhead doors add excellent curb appeal to your home, increasing its market value. Additionally, high quality doors provide added security for your garage and everything you store in it, while also providing energy savings through improved insulation for your garage. These benefits demand that when you need garage door sales and installation in the Cortland area, you should contact Wayne Dalton of Syracuse, the undisputed leader of garage door sales in the western New York area.
Variety of Overhead Doors in Cortland, NY
At Wayne Dalton of Syracuse, we offer overhead garage doors in a variety of designs and materials, from wood to steel to aluminum. We feature overhead doors from a number of top garage door manufacturers and our well-trained sales people will cheerfully take the time to help you find the door that works best for your needs. Our doors can be ordered for one-car garages to multi-bay structures.
Benefits of a Garage Door from Wayne Dalton
One of the main benefits of purchasing a new garage door from Wayne Dalton of Syracuse is the wide variety of options available in our showroom. We offer from a selection of styles including traditional wood, modern aluminum, carriage house doors, and more. With thousands of potential combinations of materials, door styles, window styles, and colors, we can offer overhead doors that are the perfect fit for any Cortland home. Come into our showroom, speak with a customer service representative, and in short order you will receive a free estimate for the purchase and installation of a new custom garage door.
Repair & Maintenance Options for your Cortland, NY Overhead Door
In addition to sales and installation, we also offer repairs and maintenance for your overhead doors. Our technicians can repair any damage or problems, including in garage door accessories like an electronic garage door lift. We also offer a maintenance service to help prevent damage to your garage doors in the first place. Our sharp eyed technicians will provide advice and preventative maintenance that should help avoid the need for future costly repairs. Trust your garage door health to Wayne Dalton of Syracuse and you will save money in the long run.
For Additional Information About Overhead Door and Garage Door Services in Cortland, Contact Wayne Dalton Today!