Geneva, NY Overhead Door Door Repair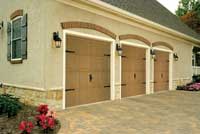 The lifespan of a garage door uninfluenced by external forces is about 30 years. However, there are some common and annoying problems with these doors, like failing to open. Such malfunctions usually happen during the down cycle, either caused by misaligned safety eyes. Overhead and garage doors can fail at the most inconvenient moments, and that's why you need fast and reliable experts to help you.
The Ideal Overhead Door Repair Services
Even professionally fixed doors are vulnerable to intermittent malfunctioning. Sometimes the safety sensors may fail, or the lens covers are clouded by dust, causing the door to reverse while opening. There's only one thing to do in such a situation, call Wayne Dalton of Syracuse experts. From professional garage door repair to post-installation maintenance, customer satisfaction is our priority.
We have been around long enough to understand even the most complex overhead and garage door issues. Wayne Dalton of Syracuse technicians delivers dependable quality overhead door repair services. You can count on our friendly, trained, and licensed experts to make sure your door functions again and lasts longer.
Why Wayne Dalton of Syracuse?
Professionalism combined with excellent customer service always standout. It is the principle that makes Wayne Dalton of Syracuse exceptional in garage and overhead door repair. Our team is highly knowledgeable, friendly, informative, and courteous. When it comes to services such as garage door repair, we don't only fix the problem. We ensure it remains operational long enough, saving you money on unexpected repairs or replacement through our preventative door maintenance services.
We are always ready to come out as many times as you like for inspections and still give you the same quality, excellent, and affordable repair services.
Stay Safe and Avoid Emergency Overhead Door Repairs in Geneva
While professionally installed garage and overhead doors may add your home's curb appeal, it's vital to avoid emergency repairs. Malfunctioning doors can be a safety threat to your family. Don't ignore signs of rust on your garage or overhead door, squeaky noises when operating it, a door that reverses when opening, or slides off the track. Ignoring these indicators of problematic doors may cost you an expensive replacement and even severe bodily injuries.
Staying safe begins by calling Wayne Dalton of Syracuse professionals for any overhead door repair immediately and ensuring you follow a regular inspection schedule. Doing so will prevent serious liabilities and injuries to your family or visitors. Our highly trained technicians will offer quick repair services and preventative services to avoid further problems.
We have excellently served the Syracuse residents for many years. To experience the same excellence, be part of the family by contacting Wayne Dalton of Syracuse today.