Oswego, NY Overhead Door Repair
Wayne Dalton provides the highest quality overhead doors in Oswego, NY. Our options include a better range of styles and materials than our competition, and superior engineering, you can rest assured that you're receiving an exceptional product. However, even the most advanced machines will break down every now and then. For this reason, we commit the same amount of dedication to our overhead door repair in Oswego as we have in everything else we offer.
When your overhead door or any of its parts are in need of repair, the skilled technicians at Wayne Dalton have the ability and skill necessary to repair any issue within an acceptable time frame. Wayne Dalton has been in the overhead door industry for a long time, and we are convinced that we know how to satisfy our customers. Our goal is to ensure that our overhead door repair services are the very best they can possibly be.
About Our Overhead Door Repair Services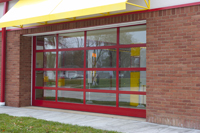 Alongside our extensive overhead door repair services, we also offer preventative maintenance for your Oswego, NY overhead door. With our preventative maintenance services, we can, and will effectively reduce the number of times you need us for overhead door repair. One of Wayne Dalton's skilled technicians will come to your home or business as many times per year as you would like, to perform service checks to your overhead doors and their related equipment. The objective with our preventative maintenance services is to help prolong the life of your Oswego, NY overhead door.
Contact Wayne Dalton Today for Premier Overhead Door Repair
Through a long history, Wayne Dalton of Oswego, NY has earned a level of experience that allows us to provide a superior product. We have grown into a company with an unparalleled commitment to service in Oswego. If you need overhead door repair, just call us. Our skilled overhead door repair technicians are standing by, ready to help get your overhead door working like new again.