Overhead Door Servicing Oswego, NY
Overhead doors are one of the most important features of any home or business. At Wayne Dalton, we're proud of the fact that we have sold more quality overhead doors in Oswego than any other overhead door supplier. Of course, like many other things, they do occasionally malfunction. For this reason, it is obviously necessary to offer a comprehensive repair plan, and that's just what we do. Wayne Dalton provides superior overhead door servicing to Oswego residents.
Utilizing our crack team of highly skilled overhead door technicians, we are able to easily service any overhead door in a timely and efficient manner. We work hard to provide your overhead door service as quickly as possible, we have the knowledge, and the necessary inventory to get the job done that day!
Servicing Oswego Overhead Doors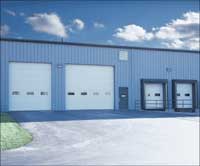 To supplement our overhead door servicing offers in Oswego, we also offer a worry-free preventative maintenance program. Eliminate, or greatly reduce the need for major, costly repairs by having one of our technicians come to your home or business as many times per year as you like. While there, we will perform routine maintenance checks and repairs to help ensure your overhead door lives a long and productive life.
We only hire the most highly trained and experienced overhead door technicians to carry out our services in Oswego. As we've stated, we strive to provide only the best in all areas, and our people are number 1, when it comes to meeting that goal. Our technicians are not only knowledgeable, but professional, friendly, and will take the time to explain to you exactly what the issue was, and how they plan to fix it.
The people of Oswego love quality, and so does Wayne Dalton. If you're in need ofoverhead door servicing, look no further. Call us at 315.453.7733, today.