Overhead Garage Door Repair Ithaca, NY
Things break down; it's a fact of life. Anyone can tell you that owning a home or business means continuous maintenance. It's the bathroom sink this week, and the washing machine the next. Many of these things cause headaches and are both financially and mentally stressful. Wouldn't it be nice if there was one thing that you didn't have to worry about? Take your garage door for example. It would be great to have an Ithaca overhead garage door repair company on your side, ready to help you out with your Ithaca home or business' garage door under any circumstances. If that sounds appealing, then give Wayne Dalton a call - we're Ithaca's leading overhead garage door repair company.
For decades, Wayne Dalton has serviced Ithaca's residents and businesses with the best overhead garage door repair we can possibly offer. Our highly trained technicians take great pride in their ability to repair your overhead garage door in a timely and efficient manner, and they're able to do it all in a friendly, professional manner.
About Our Overhead Garage Door Repair Services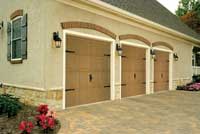 In addition to expert repair, we also offer a robust, customizable preventative maintenance program. As many times per year as you would like, we will send one of our overhead door technicians out to your home or business to perform routine maintenance checks and repairs. Our preventative maintenance customers are always satisfied with this program, because it greatly reduces the number of times your Ithaca garage door will be in need of serious repairs.
Contact Wayne Dalton for Your Ithaca Overhead Garage Door Repairs Today
Whether you're currently in need of overhead garage door repair in Ithaca, or are interested in preventing such repairs with our preventative maintenance program, we urge you to call and speak with a Wayne Dalton representative today. Call us at 315-453-7733 to get your service estimate!