Rome, NY Garage Door Repair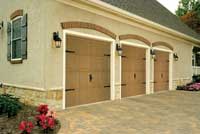 Did you wake up this morning, walk out to your car, press the garage door opener, and find yourself stuck? Most people are puzzled at first when their garage door doesn't open, but after a few presses, you may start to the get idea that something is seriously wrong. Before immediately panicking about what to do, focus on what you can do, which is call a garage door repair company in Rome, NY. Wayne Dalton of Syracuse has been helping people with their garage door repair problems for years and can help you as well with one simple phone call.
Common Problems with Garage Doors in Rome, NY
One of the most common reasons that a garage door breaks in Rome, NY is its spring. The spring is essential to the proper opening and closing of your garage, and once it snaps the only choice you have is to call a garage door repair technician. Once the spring snaps, the only thing that will fix your garage door is a new spring. If your garage door is not broken yet, but you notice that the spring is rusting or weakening then it may be a good idea to give a Rome, NY technician a call now. This is a pretty good sign that the spring is going to break, and proactively calling Wayne Dalton of Syracuse for a repair is better than calling us with an emergency.
Schedule Garage Door Repairs Today
To that end, you may want to think about calling Wayne Dalton of Syracuse for a garage door inspection to hopefully avoid a scenario where you need to be at work but are stuck inside of your garage. As a bonus, inspection is much cheaper than emergency garage door repair, so you will save more than just stress by scheduling an annual inspection. If we note anything wrong, we will suggest proactive garage door repair so that the only thing you need to worry about is pressing the button in the morning.