Rome, NY Garage Doors
The value of a garage door should not be overlooked. When it comes to curb appeal, and functionality, a garage door adds the kind of value to your home that few other things can. In areas such as convenience, storage and security. Although it may be something you have never given much thought to, Wayne Dalton is here to remind you that a wonderful new garage door for your Rome NY home might just be one of the best investments you can make.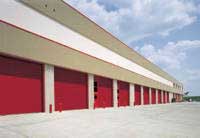 At Wayne Dalton, we pride ourselves on our selection. We offer a large variety of aesthetic features for your Rome NY garage door. We boast over 16 collections of different styles of garage doors for your home, with materials ranging from classic wood, to speciality vinyls and carriage house steel.**Wayne Dalton is also proud to offer an impressive assortment of factory finish paint colors, stain, and wood grain. In addition, each of our garage door models offers choices in panel design ranging from classic raised panels, to carriage house, and modern full-view glass and aluminum designs. But it doesn't end there, to complete the look of our garage door models, we offer a variety of window and decorative hardware options.
Garage Doors Rome, NY
We can also provide you with the skill and expertise to maintain your new Rome NY garage door. Our expert staff and repair technicians are always available, should yourgarage door ever break down or malfunction in any way. Whether it's in the form of repairs, or preventative maintenance, we can assist you.
Wayne Dalton also provides preventative garage door maintenance in Rome NY. Imagine a scenario wherein the b or loading dock for your business was not operating properly one day? In order to avoid this kind of situation occurring, our professional garage door technicians will visit your business as many times as you like to perform service checks to your doors and their equipment.
At Wayne Dalton, we also provide Fire Drop Testing, and Annual Inspection for your business' garage doors. NFPA 80 states that Fire Doors must be tested and inspected yearly in order to meet building codes, and you can trust us to be able to perform this on time, and accurately.
To learn more about our Rome NY garage doors, please do not hesitate to contact us at any time.