Syracuse, NY Wood Overhead Door Repair
A wood overhead door is always a beautiful touch for any home. This rustic look is virtually unparalleled when it comes to curb appeal. At Wayne Dalton, we know this, and we strive to offer only the most top of the line wood overhead doors. However, our excellent customer service and expertise does not end with the sale; we also offer quality overhead door repair services to Syracuse homes and businesses.
At Wayne Dalton, Quality is always what we work toward from the point of sale, through the installation process, and all of the repairs and maintenance throughout your wood overhead door's lifetime.
Wood Overhead Door Repairs in Syracuse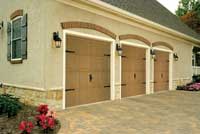 We employ only the most skilled and technically proficient wood overhead door repair specialists that we can find. Our repair professionals have years of experience, a friendly demeanor, and a great work ethic. We work hard to ensure you aren't disappointed when you call on us for your overhead door repair needs, in Syracuse.
Moreover, our wood overhead door repair services don't just mean fixing your door after it has already broken down. Wayne Dalton of Syracuse also provides a robust preventative maintenance program. When you sign on for this, you choose when we come to your home, as many times per year as you feel is necessary. A technician will perform routine checks and maintenance work to ensure the long life of your beautiful wood overhead door.
Contact Us For Your Wood Overhead Door Repair Needs
Many Syracuse home and business owners already know all about Wayne Dalton's superior record and reputation, but if you don't, make sure to give us a call if you're in need of repairs for your wood overhead door. Call us at 315-453-7733, today.