Wooden Overhead Doors Syracuse, NY
One of the best ways to increase the property value of your home is through the renovation. The kitchen & bathroom are two of the most common areas, but what about your garage? If you have one, the garage quickly becomes one of the most essential areas of the home. A garage can be used for storage, work area, and much more. If you're looking to increase the curb appeal of your home, consider contacting Wayne Dalton for Wood Overhead Doors in Syracuse. Wayne Dalton provides beautiful, high-quality wood overhead doors in Syracuse, top-notch customer service, and always the very best in maintenance, and care for your investment.
Wood Overhead Doors in Syracuse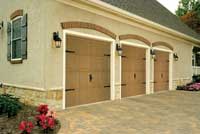 If you own a business in Syracuse, what do you do if your overhead door stops working? With a Syracuse overhead door, you need not worry. We offer year-round preventative maintenance on all of our overhead doors. As many times a year as you would like, we can send out our highly-trained, professional technicians to service your Syracuse wood overhead door and all related equipment.
If you're interested in wooden overhead doors for your Syracuse home or business from Wayne Dalton, don't hesitate; contact us today to set up a free estimate. You won't regret it.